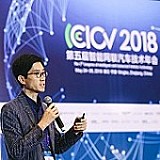 FISITA and China SAE hosted the inaugural FISITA Intelligent Safety Conference on 29 May 2019, during the 6th International Congress of Intelligent and Connected Vehicles Technology, in Beijing, China. 
This unique opportunity enabled delegates to participate as FISITA and China SAE collaborated in establishing and delivering this important conference at a crucial time for the international automotive and mobility systems engineering community.
This event delivered a high-quality, international speaker line-up, which considered and discussed the important topics of the safety of future mobility such as standards, regulation, design safety, test and evaluation, making this one of the important, must-attend events of 2019. View the 2019 page, featuring a selection of presentations, here.
The FISITA Intelligent Safety Conference China 2020 is planned to take place during the China SAE Congress & Exhibition (SAECCE), 29 October 2020, in Shanghai - to register please follow the link.
Event Agenda
The event agenda is now online - follow this link to view the programme on 29 October and 26 November.
Sponsorship Opportunities
FISITA is offering a small number of exclusive sponsorship packages during the FISITA Intelligent Safety Conference China. This unique opportunity will deliver your organisation profile within this significant gathering of leading mobility suppliers and technologists.