Here you will be able to find Case Studies from a selection of the teams of students who have participated in their local Formula Student events. 
Formula Student (FS) is Europe's most established educational engineering competition. Backed by industry and high-profile engineers such Patron, Ross Brawn OBE, the competition aims to develop enterprising and innovative young engineers and encourage more young people to take up a career in engineering.
READ THE IMECHE CASE STUDY HERE

Team Bath Racing Electric, UK
Team Bath Racing Electric (TBRe) is a young, exciting and innovative student motorsport team based at the University of Bath. Each year, TBRe designs, builds and tests a single-seat, open-wheel race car to compete on an international stage at Silverstone at the renowned Formula Student competition. 
READ THE Team Bath Racing Electric CASE STUDY HERE
Team SHARK, Sri Lanka
Team SHARK Racing is the Formula Student team of the University of Moratuwa, Sri Lanka. Established in 2014, we are a team of around 20 undergraduate students from all years, from the Department of Mechanical Engineering. Our mission is to build and race a single-seat racing car in one year in order to compete in static and dynamic events, against universities from around the world at the international Formula Student competition.
READ THE TEAM SHARK CASE STUDY HERE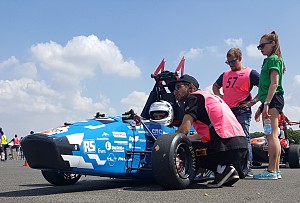 Metz Team Racing, France
Metz Team Racing is comprised of students in their fifth year of studying the Automotive Performance course at l'Ecole Nationale d'Ingénieurs de Metz have project-designed and manufactured a single-seater, which competed at the prestigious competition Formula Student. For the third year, students studying Management de l'Innovation dans l'Industrie Automobile at the Arts et Métiers Metz campus participated in the project. ENIM and Arts et Métiers are among the only five French schools who participated in this competition.