VINCI is a global player in concessions and contracting, employing almost 220,000 people in some 100 countries. We design, finance, build and operate infrastructure and facilities that help improve daily life and mobility for all. Because we believe in all-round performance, above and beyond economic and financial results, we are committed to operating in an environmentally and socially responsible manner.
VINCI is fully aware of the substantial impact that buildings and transport, our two main areas of business, have on greenhouse gas emissions and global warming. VINCI has built an array of environmental expertise in all its business lines, and its innovation policy has focused on this priority for several years. The results are now taking shape in new services with added environmental value, many of which have been incubated at Leonard, our forward-looking innovation platform.
Leonard also leads foresight activities for VINCI group on the role of road infrastructures in the deployment of autonomous, connected and electric vehicles. For connected and autonomous vehicles, our goal is to develop smart and connected roadside systems that could ultimately contribute to safe and affordable autonomous mobility for all. This can be achieved by developing connectivity and perception systems along highways to extend the vision of autonomous vehicles beyond the reach of their onboard sensors. This could improve the vehicle's understanding of its surroundings and increase its capacity to anticipate hazardous driving situations. For electric vehicles, our goal is to explore innovative energy solutions in the infrastructure that could mitigate the range limitations of battery electric vehicles.
Several entities of VINCI are now trying to scale innovative solutions incubated in Leonard from their experimental phase to industrial implementation. For example, less than two years after its creation, CYCLOPE.AI has now confirmed that it can deploy artificial intelligence technologies on roadways on an industrial scale. It already implemented smart roadway functions like vehicle classification, automatic incident detection, traffic estimation, detection of vehicle occupants for carpooling lanes in different regions and countries.
VINCI AUTOROUTES, a major highway operator in France, also contributes to innovative mobility studies and experiments. The company is a member of the SAM consortium, which is now testing autonomous vehicles on motorways in the Greater Paris area.
VINCI ENERGIES uses its expertise in power systems and energy distribution to deploy a network of high-power chargers on highways in France.
EUROVIA uses its expertise in roadway design and construction to explore innovative charging infrastructure embedded in roadways to enable dynamic charging of electric vehicles. EUROVIA also focuses on the evolutions of road equipment (i.e. signs and markings) to address the future needs of autonomous vehicles.
We believe that VINCI combines all the required and complementary expertise to tackle the challenges of autonomous, connected and electric mobility. Our membership in FISITA illustrates our desire to reach out to the automotive sector to tackle these challenges in a collaborative approach.
Pierre Coppey
Executive Vice-President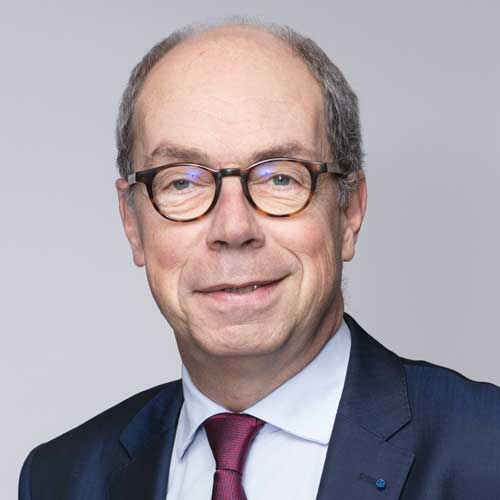 Born in 1963, Pierre Coppey, a graduate of the Institut d'Études Politiques de Strasbourg and of ENSPTT, France's national school of posts and telecommunications, began his career in internal and corporate communications for La Poste. Having joined the VINCI Group in 1992, he held various positions before being named Director and then Deputy Chief Executive Officer with responsibility for communications, human resources and synergies. At the end of 2007, Pierre Coppey was appointed Chairman and Chief Executive Officer of Cofiroute. In July 2009, he was named Chairman of VINCI Autoroutes, which groups together ASF, Cofiroute, Escota and Arcour. Between April 2014 and June 2016, Pierre Coppey served as Chief Operating Officer of VINCI and Chairman of VINCI Concessions. He is currently Executive Vice President of VINCI, Chairman of VINCI Autoroutes and Chairman of VINCI Stadium. Pierre Coppey has also been Chairman of the non-profit organisation Aurore since 2000.