8 October 2019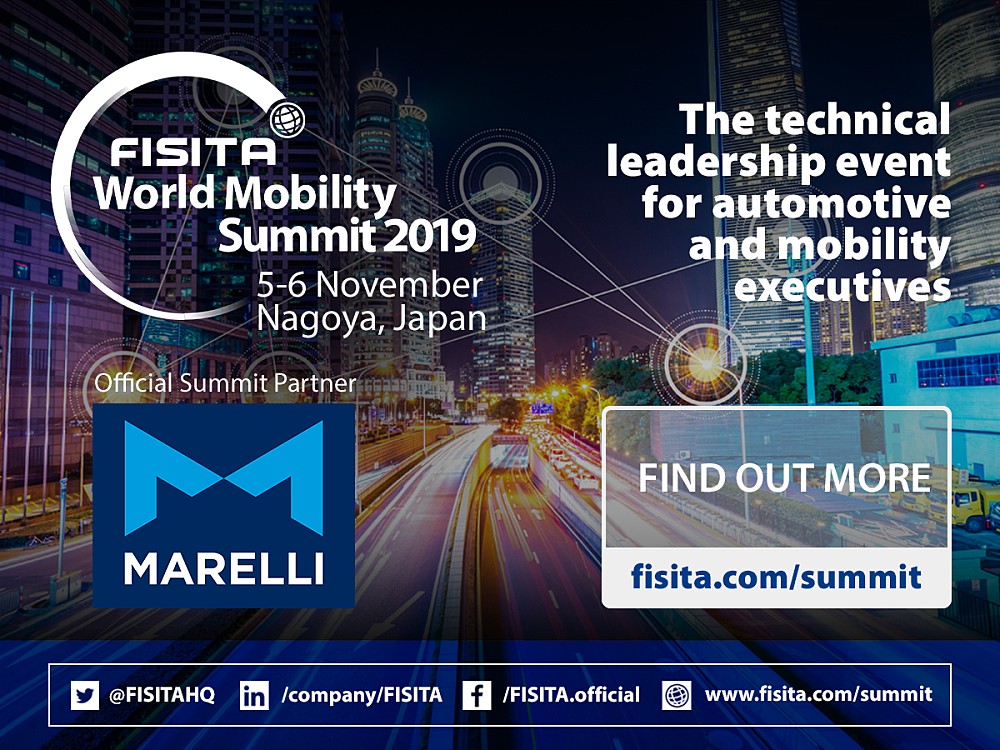 FISITA, the international membership organisation for the automotive and mobility systems engineering profession, today announces global automotive supplier Marelli as Headline Sponsor for its 10th World Mobility Summit, which will be held in Nagoya, Japan, on 5-6 November 2019.
The 'by-invitation' Summit provides a platform for technical leadership discussion, debate and collaboration amongst many of the world's leading automotive and mobility brands. Leaders from industry, policy, and research will discuss key ideas and opportunities generated from the 2019 theme, "Ecosystems of New Mobility", through a programme of plenary presentations, panel discussions and the interactive World Café session.
"We are extremely pleased that MARELLI is this year's Headline Sponsor at the World Mobility Summit, with its special focus on new mobility ecosystems," said Hiroshi Watanabe, Communication Director at MARELLI. "Our idea of 'Powering Progress Together' reflects our focus on helping our customers confidently navigate and succeed in an unprecedentedly changing industry.
"It also focuses on the latest trends in the field of autonomous driving, electrification, connected systems, green technology and interior experience for a sustainable future."
Chris Mason, FISITA CEO, said: "FISITA is proud to partner with Marelli for the FISITA World Mobility Summit, which provides a platform for global automotive and mobility executives to collaborate in a pre-competitive environment to pave the way forward for the mobility industry.
"With the new era of mobility upon us, we are witnessing industries that traditionally existed within their own market space entering the automotive landscape and hence the boundaries of those markets are blurring as we collectively collaborate and operate within the new mobility ecosystem."
The Summit programme will feature speakers and contributors from a broad range of international organisations such as: General Motors, Kyushu University, Robert Bosch GmbH, RWTH Aachen University, Synopsys Inc, Toyota Research Institute-Advanced Development Inc, Transdev and Visteon.
For more information on the FISITA World Mobility Summit see:
www.fisita.com/summit